By: Anne Falcetano
Posted In: Sports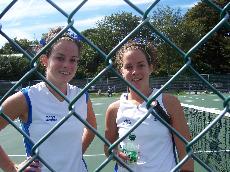 Photo credit: Ann Falcetano
The Kennedy twins before a match.
"They showed up for preseason ready to play", said Marissa Giaimo former Salve Regina tennis player and current assistant coach. Both Giaimo and head coach Ed Habershaw saw rejuvenation in the eyes of Kristina and Michelle Kennedy upon their arrival at preseason for the 2006 fall tennis season.
After spending the last three years in the top spots on the team and finally being named captains, along with senior Danielle Welch, the Kennedy twins who hail from East Moriches, N.Y., are looking to have a rewarding season before graduating Salve in the class of 2007. "There was a look", said Habershaw. "I saw them and I knew they had it."Only four games into their final season Michelle and Kristina have accomplished one goal they have been chasing since their freshman year. On Saturday Sept. 9, they defeated Gordon College in the finals of the Women's Grass Court Doubles Tournament. The past three years the pair has made it into the final round, but have lost each time to Gordon's top players.As a team, the Kennedy's have some unique advantages over their opponents. Michelle has strength in her forehand while her twin sister Kristina excels in her backhand. A lifetime together also gives them an advantage, "it is very rare to have a doubles team that knows so much about each other", said Kristina. This win starts off their season in a positive direction with many other goals still to accomplish. One objective this season is a fourth Commonwealth Costal Conference title. In winning for a fourth year the Seahawks will be the first team to win four consecutive conference titles. This will then result in a bid to the NCAA tournament, which the Seahawks have never received.However, the Kennedy twin have a bit more to them than their tennis talents, they are movie stars. In 1987 "Baby Boom", starring Diane Keaton, was released. The baby in that film was played by Michelle and Kristina. They have been the subjects of a number of articles, an "Inside Edition" television special and even have their own IMDb web pages. The Kennedys will not be returning to that Hollywood life any time soon though. Kristina, a double major in Mathematics and Secondary Education, and Michelle, also a double major in Elementary Education and Special Education, will follow in their parents' footsteps. Their mother is a high school math teacher, and their father teaches both high school and college level english. Jim and Diane Kennedy try to make the trip from Long Island to New England as often as possible to watch their girls play.In a college setting, being on a team is like joining a family. During preseason you spend almost every waking minute with your team. There are the constant phone calls, the hours of practice and the long trips to and from games. Over the last three years the Kennedy twins have made their mark on their fellow tennis players. "We have some very important goals this year", commented Michelle. "I only hope that this year can be as fun and rewarding as the last three years. I am going to miss being part of a team and I am going to miss playing tennis with these girls."The impact of the twins reaches to their successors on the team as well. "Michelle and Kristina have been role models on and off the court," said Louise Taylor, a junior. "They are good friends and captains and I am going to greatly miss having them on the court." Alicia Wills, a former tennis player and 2006 graduate of Salve has watched the twins since their first days with the team. Friends both on and off the court, Alicia had only one thing to say, "they are not little freshman any more."