By Henry Nickerson | Associate Editor
For the 2016/17 school year, Salve collected $37,270 in tuition from each student. Along with this, students who live on campus pay $8,235 for room and board. Included in that room and board fee is a student's meal plan. For freshman, the meal plan grants them unlimited swipes to Miley Cafeteria, Jazzman's Cafe, Global Cafe, and Sardella's. Sophomores are given a choice between the unlimited swipes or a 14 meals a week plan.
While attempting to balance his budget, former student, sophomore Jeremiah Callahan, began seeing discrepancies in his 14 swipes a week plan. Looking deeper into the matter, Callahan discovered that 14 meals a week is more accurately 2 swipes a day. Therefore, if swipes aren't used during the day, the student's pre-deposited money is non-refundable. This was a problem for Jeremiah, who was losing money every day at his downtown job. He didn't have the time or resources to commute back to campus during his shifts, so half of his meal plan was being wasted. Jeremiah was unhappy to learn this, and began calculating how much students pay individually for meals. Jeremiah concluded in an info-graph that for each meal, students are paying $12.50 while walk-ins cost $6.75. Therefore, students were being cheated out of around $2,420 every year.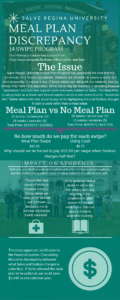 Mosaic Student News decided to investigate the accuracy of Jeremiah's data by speaking with the Associate Vice President for Finance at Salve, Michael Grandchamp. Grandchamp explained that Salve does not look at meal plans on a meal-to-meal basis, but rather as a business model primarily based upon the service of the students. Grandchamp then, upon evaluating a meal-to-meal cost, approved Jeremiah's $12.50 price for students, but corrected the $6.75 for walk-ins to $9.50. "These rates are set accordingly and reflect not only staff and food, but also items such as facility costs, maintenance, supplies, and equipment necessary to service that population," said Grandchamp. Jeremiah had confused the faculty discount price (between $7.00 and $8.00) for the regular customer price. "When we place a meal plan, we want students to get value, we want to make sure that they have the opportunity to eat, and that they have a number of options at which to eat." Grandchamp explained some of the different options students have to choose from on campus and the discounts some local vendors offer Salve students.
However, when approached with a question concerning pre-deposited money lost with each missed swipe, Grandchamp did not have a definite answer. He discussed the possibility of a block meal plan. This would provide students with a set amount of money at the beginning of every week to spend on food. However, while this puts students at less risk of losing money, they are at a higher risk of spending money frivolously. Therefore, a student may not have enough money by the end of the week if he or she has spent all of it. Salve will most likely nix this option.
For further questions concerning pre-deposited money, Grandchamp directed me to SGA senator and Chair of the Dining Committee, sophomore Maria Hendrickson. Students may recognize Maria's handiwork with SGA in the new iced coffee at Miley Cafeteria, or in the new buffalo chicken and gluten-free panini press at Global Cafe. Maria handles day-to-day issues with student dining, "There are those little things we try to nip in the bud, but we also have big projects we try to pass each year," said Maria.
Perhaps the biggest of these projects is what do to with students' lost money on unused swipes, or "rollover money." After losing half of the Dining Committee to transfers and graduate school, Maria and the others on the committee had to start from the ground up. With fewer resources, the dining committee nevertheless wanted to find a way to save students more money. With this in mind, the dining committee researched colleges and universities with similar student bodies and meal plans. After discovering a number of ways other institutions save students money on meals, the committee had to figure out what system worked best for Salve Regina. They did so by creating an eleven question survey that covers everything from students' preferred hours for Miley, to the possibility of a Seahawks loyalty card in which local vendors give Salve students significant discounts (in the process of being reviewed by Student Activities and University Relations).
Maria believes that this survey will help the dining committee gage the student's interests and discrepancies with the meal plan. The survey is still in the Business Office, so its release date is unclear. However, some of the ideas on it are brilliant, such as having rollover money from unused swipes being redistributed to Seahawks Bucks or to students that need financial assistance. Maria and the dining committee will need the support of students, the Business Office, and Sodexo to get these propositions passed.
In the mean time, students are encouraged to get creative with their meal plan and voice their concerns. General Manger of Sodexo's Salve branch, Mark Rodrick, echoed this sentiment, "We want people to come forward and provide feedback. It's always disheartening for me to hear a student has a bad taste in their mouth for our services." Sodexo does not handle the financial side of the meal plan, they only control the food. However, Rodrick has been at Salve for almost 29 years, and has a passion for the students and their food. He works closely with the dining committee and the Business Office to deliver students a dining experience they can enjoy.
With a genuine concern for students' financial well-being and the resolutions proposed by SGA, the meal plan is not a tool by which Salve can extort its students, but rather a large financial model that aims to provide them with tasty and consistent meals. If Maria and the dining committee are able to achieve everything they have set out to do, then students should expect a more financially-sound meal plan for the 2017/18 school year.
While writing this article, Maria emailed me to announce the instatement of the weekly roll-over plan. Therefore, student's unused swipes throughout the week will transfer to the next week. Along with this, Maria and the dining committee passed a resolution to redistribute unused guest swipes to Seahawks bucks. It appears that Maria and SGA have heard student's complaints, and acted quickly to resolve them.