By Caroline Connick | Associate Editor
Fall is finally here, which means lots of fun activities all over Newport County for friends to get together and take in the beauty of the season. Apple picking is just one of these must-do items for everyone's fall bucket-list, and Young Family Farm in Little Compton, Rhode Island is the place to go!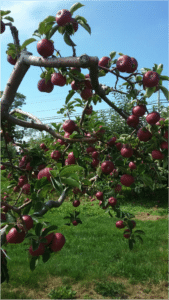 According to Karla Young, co-founder of Young Family Farm, their busiest retail season is apple-picking season. "People come from all over," she says. Young and her husband founded the farm in 1997 when it was just empty land. Today, the farm takes up a total of about 300 acres and is filled with a variety of fruits, vegetables, and flowers. "Any vegetable you can think of, we probably grow," Young says.
Their orchard currently houses about thirteen varieties of apples, and their most popular variety is Honeycrisp. September is commonly thought of as the apple-picking season, but in fact, Young Family Farm has fresh apples all the way until November. The Fuji apples will actually be at their peak in the middle of this month.
Young Family Farm also often hosts community events, and runs a farm stand seven days a week from 9 a.m.-5 p.m. So if you need a good study break and some fresh air, take the scenic drive over to Little Compton with some friends, get some delicious apples, and grab some Jack-o-lantern pumpkins, too!