By Tori Guglielmino | Staff Writer
Thanksgiving is a time to reflect and give thanks for the things we have in life that make us happy. Here at Salve Regina there are plenty of things to be grateful for: a campus on the ocean, historic mansions, and the education.
There are more unique things on campus to be grateful for such as the Swag Wagon, with its free supply of merchandise, the Cliff Walk' beautiful view of the Atlantic, and being able to go on the trolley as frequently as possible. Also, there are endless amount of opportunities to get involved at Salve, whether it be in a club, or a part of a sports team, both varsity and intermural. All of these opportunities allow every student to be able to participate in subjects they enjoy, including academic programs and internship opportunities.
Another thing to appreciate are our staff and faculty, specifically the professors who teach us about our fields of study. Being a part of smaller school allows students to engage with professors more easily.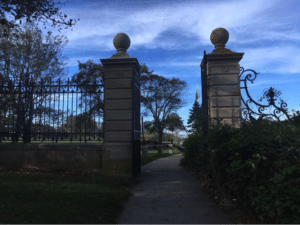 Our academic advisors help us to plan and prepare for our futures outside of college. Also, a very special thanks to those who have helped freshmen students get acquainted to college, such as orientation leaders and peer mentors.
Salve offers a lot of support and chances to make an impact. Salve students have the chance, through mission trips and community service opportunities, to give back and be able to return our appreciation for what we have.
One of Salve's great features is its nearby location to downtown Newport, close to multiple outlets of shopping, food, and entertainment. Furthermore, Newport has a lot of historic value that students get the chance to see and learn about.
There are plenty of things to be grateful for here at Salve, where there are many resources available. Take the time to appreciate its qualities and value this Thanksgiving time.