by Henry Nickerson | Public Relations Coordinator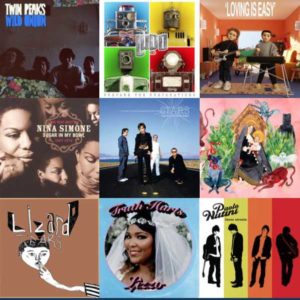 With Valentine's Day quickly approaching, consider a few of these modern and vintage tunes to woo your significant other.
1. "Loving Is Easy" – Rex Orange County
At the young age of nineteen, London native Alex O'Connor A.K.A. Rex Orange County has made waves in the R&B scene. After his sophomore album, Apricot Princess, Rex teamed up with Tyler the Creator on two tracks from Tyler's 2017 project, Flower Boy. Rex's newest single, "Loving is Easy," is a swelling love letter reminiscent of Marvin Gaye's "How Sweet It Is." It goes well with nights involving dancing and champagne.
2. "Outro" – Marlin's Dreaming
Marlin's Dreaming is a new band out of New Zealand who delivers vibey hooks and catchy choruses in every song on their debut album, Lizard Tears. Having recorded the album inbetween surf sessions, the kiwi surfers were surprised to find the positive reception, and proceeded to form Marlin's Dreaming. "Outro" is the last song on the album, and its infectious guitar hooks are perfect for ocean drives with your Valentine.
3. "Heart Don't Stand a Chance" – Anderson Paak
Anderson Paak's sophomore album, Malibu, delivers track after track of R&B/rap deliciousness. The second song on the album, "Heart Don't Stand a Chance," is a jam featuring beautiful bass and keys by his backup band, The Free Nationals. Mr. Paak's vocals can set the mood for an intimate dinner or a rowdy night out.
4. "Prettiest Eyes" – The Beautiful South
After a stint of success on British college campuses, The Beautiful South has unfortunately faded into the woodwork of 90's singer-songwriters; however, the Yorkshire outfit have a deep and wonderful discography which produces fragile love songs like "Prettiest Eyes." The single off of their 1994 project Miaow has exhibited great staying power, and portrays an honest perspective of love's strength through old age, "Now you're older and I look at your face, every wrinkle is so easy to place. And I only write them down just in case that you die." This is premium mixtape material.
5. "When You're Smiling and Astride Me" – Father John Misty
Josh Tillman A.K.A. Father John Misty's sophomore album, I Love you, Honeybear, is filled to the brim with buttery love ballads. With influences from The Beatles to Otis Redding, Misty's music sets nostalgic song structure to clever and biting social commentary. While not all of the tracks on I Love You, Honeybear are appropriate to give to your Valentine (or even a loathed ex), "When You're Smiling and Astride Me" is an intimate, vulnerable tune with gorgeous strings.
6. "Truth Hurts" – Lizzo
For those who choose not to buy in to the Valentine's Day hype, Minnesota hip-hop queen Lizzo stresses the freedom of independence and confidence in her 2017 single "Truth Hurts." Uplifting and attention-grabbing, "Truth Hurts" is a playful track supported by Lizzo's charismatic vocals and witty one liners, like "I just took a DNA test, turns out I'm 100% bad b***h." Who needs a significant other when you have Lizzo?
7. "Last Request" – Paolo Nutini
Paolo Nutini is a Scottish singer-songwriter with an ear for a catchy hook. A single off of his 2007 debut album, These Streets, "Last Request" is a rich love song with brilliant guitar and vocals. Although Nutini was only eighteen when he recorded the song, his work's maturity and soulfulness are far beyond his years.
8. "Anything For You" – Ludo
Ludo's ballad "Anything For You" from their sophomore album, Prepare The Preparations, is sentimental and creative with a unique perspective on love, which one is hard pressed to find. This song is perfect for a mixtape you're making for a Valentine hopeful.
9. "To Love Somebody" – Nina Simone
Legendary jazz singer, Nina Simone creates a life-affirming track in "To Love Somebody." Nina's unique voice carries the song, making for easy listening. Although an acquired taste, Miss Simone creates both haunting and uplifting music.
10. "Linger" – The Cranberries
In light of the early passing of Cranberries lead singer Dolores O'Riordan last month, "Linger" has found its way onto this playlist for its appropriateness and as homage to the great Irish songwriter. "Linger" has made its mark as one of the great modern love songs, and has proved its stay power by somehow remaining in the periphery of younger and younger generations. As The Cranberries grieve their creative force's passing, people will look to their discography for masterclasses on songwriting for years to come. Listen to "Linger" this Valentine's Day, and let O'Riordan's lovely voice cap off your romantic day.